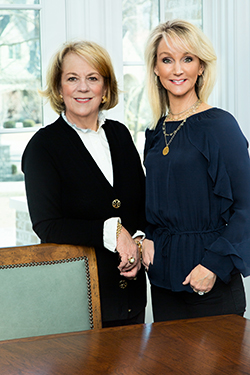 Joan Schnoebelen and Megan Rowe
Partners for over 30 years
70 years of combined experience
Top Agents and Team at Laura McCarthy Realtors year after year
Selling Agents for the most expensive home sold in Laura McCarthy history
Responsible for over $750 Million in career sales
Many recurring families ... truly realtors for your Whole Life!
Million Dollar plus Experts ... Ask for a recent rundown of Our High Priced Sales
All customers, no matter what price range, get the same Legacy of Commitment service!
Personal
Both of us are consummate multi-taskers, party planners, interior design mavens and artists
Volunteerism is a family value, particularly with regards to JDRF
We are avid family sports fans. We follow the St. Louis Cardinals, Rams, Blues and Billikens and with Megan's son Max at MU, most certainly the Tigers!
Joan and husband John are longtime members of Old Warson C.C. and Strathalbyn Club. They have lived in almost every community in the central corridor. Joan attended Villa Duchesne High School and Maryville University. They have three married children and five grandchildren.
Megan and her husband Bill belong to Algonquin Golf Club and they with their two sons, live in Warson Woods. Megan is active at MICDS and Mizzou, and regularly attends a variety of local service organizations. Megan's son Max has been a juvenile diabetic since childhood, and she and Bill have worked closely with the local organizations to raise thousands of dollars for this very important cause.
We both love to golf and relax with our many friends, most of whom are current and former clients. You can frequently catch us running around town in between listings, delivering cards and personal notes to our contacts. We truly employ that "personal touch!"
Business Philosophy
In this often impersonal world of commerce, we emphasize an extraordinary attention to client requirements, often beating the bushes to find just the right home or just the right buyer. We are never satisfied with anything other than the best outcome because we treasure each person as friend and recommendation. After all of these years in the business, we have found that these uncompromising values are certainly the key to our recurring success!