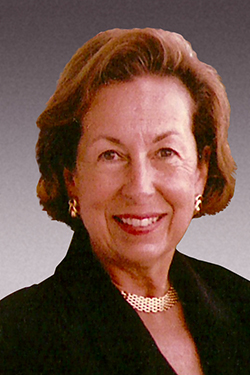 Personal
Bachelor's Degree from Manhattanville College
Post-graduate study at Brown University and Boston University
Active in the community serving on several local boards
Taught in Rhode Island, Wisconsin, New York, and London, England
Enjoy the arts, museums, concerts, and theater
Favorite activities are golf, duplicate bridge, travel and reading
Characteristics and Qualifications
Full-time broker-sales agent for thirty years
Listings and sales in the central corridor from St. Louis City to St. Charles
Multi-Million Dollar Club and Life Member of the Million Dollar Club

CMAS A-Team Agent, CM Marketing And Relocation Specialist, Certifed Relocation Specialist
Many years of corporate life has enabled me to empathize with the relocation process from the transferees perspective and corporate guidelines
Focused on the unique needs of buyers, sellers and investors
My Goals
Experience, professionalism, involvement, success
My clients' objectives become my goals. Their wish and requirements become my challenge
Quote: "When working with Marilyn we enjoyed the experience and skill of an outstanding professional with an attention to detail that left nothing wanting. From the beginning to end her efforts were directed solely to our specific needs and benefits."