Decor Trends: Moody Colors
---
Move over gray, beige and white. Dark and moody color palettes have become increasingly popular in interior design over the past few years. While many people may think of bright and airy spaces as the go-to for home decor, there is something to be said about the allure and sophistication of deep, sultry shades. Whether it is a dramatic accent wall or an entire room decorated in rich hues, using dark colors in your home can create a warm, inviting, and stylish atmosphere.

Here are some of the top decorating trends with dark moody colors that you can incorporate into your home: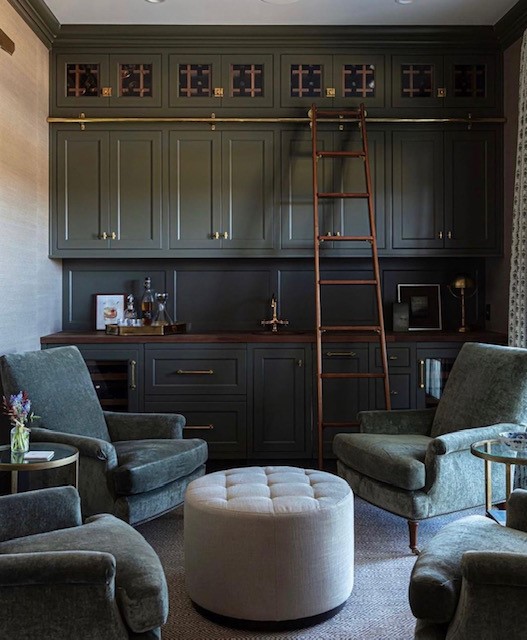 • Bold Accent Walls. One of the easiest ways to introduce a dark and moody color palette into your home is by creating a bold accent wall. A deep blue, green, or even black wall can create an immediate impact and serve as a backdrop for artwork, furniture, or other decor elements. This trend works well in spaces like the living room, dining room, or bedroom, where you want to create a cozy and intimate atmosphere.
• Darker Shades for Furniture and Accessories. If you're not ready to commit to an entire room painted in a dark color, you can still incorporate these moody hues into your decor through furniture and accessories. Darker shades of upholstery, like navy or charcoal, can add depth and dimension to your space. Additionally, decor pieces like throw pillows, curtains, and rugs in dark colors can add an element of sophistication to any room.
• Mix and Match with Metallics. Dark moody colors work beautifully with metallic accents, such as gold, copper, and silver. Mixing and matching these elements can create a chic and glamorous aesthetic. Consider adding metallic finishes to light fixtures, picture frames, or even hardware on furniture pieces to add a touch of luxury to your space.
• Go for Dark Wood Finishes. Dark wood finishes are a classic choice when it comes to home decor. Richly stained wood like walnut or mahogany can add depth and warmth to any room. Consider incorporating dark wood finishes through furniture pieces like a dining room table or coffee table, or through smaller decor elements like picture frames or vases.
• Layer with Textures. When working with a dark and moody color palette, it's important to add layers and texture to your space to avoid a flat or sterile look. Mix and match materials like velvet, linen, leather, and even fur to add depth and interest to your decor. Adding texture can also help to soften the overall effect of darker colors.
Using dark and moody colors in your home decor can add a touch of sophistication and warmth to any space. Whether you opt for an accent wall, dark furniture pieces, or layering textures and metallic finishes, incorporating these decorating trends can create a cozy and inviting atmosphere in your home. So do not be afraid to embrace the dark side of home decor!
image courtesy of
m. steffens interiors
msteffeninteriors.com
---
YOU MAY ALSO LIKE