Central West End - City of St. Louis
---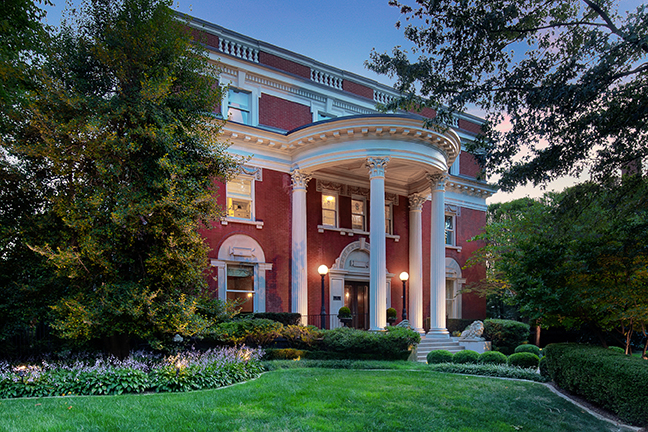 Pierre Laclede Liguest, recipient of a land grant from the King of France, and his 13-year-old scout, Auguste Chouteau, selected the site of St. Louis in 1764 as a fur trading post. Laclede and Chouteau chose the location because it was not subject to flooding and was near the confluence of the Mississippi and Missouri Rivers. Construction of a village, which Laclede named St. Louis, in honor of both Louis XV, then king of France, and Louis IX, the current king's patron saint began the following year.
Most of the early settlers were French; many were associated with the fur trade. St. Louis transferred to the Spanish in 1770, returned to France under a secret treaty with Napoleon and, following the Louisiana Purchase of 1803, became part of the United States. According to legend, on the day of transfer of the territory to the United States in 1803, St. Louis flew under three flags in one day--French, Spanish, and American.
The town gained fame in 1803 as the jumping-off point for the Louisiana Purchase Expedition of Meriwether Lewis and William Clark. After 1804, more New Englanders and other East Coast emigrants settled in St. Louis, but the population remained predominantly French until well into the 19th-Century. St. Louis incorporated as a city in 1823. During the 19th-Century, St. Louis grew into an important center of commerce and trade, attracting thousands of immigrants eager to find a new life on the edge of the frontier. St. Louis's current boundaries were established in 1876, when voters approved separation from St. Louis County.
The Central West End (CWE) is located west of downtown St. Louis and comprises 112 city blocks nestled between Forest Park and the St. Louis University campus. Its development began in the late 1800s as St. Louis prepared for its 1904 World Fair, and many of the city's citizens gravitated to the area to build stunning single-family homes. Local business owners arrived soon after.
Classic Central West End residences and architecture from this era can be found on what are now Lenox Place, Pershing Place, Kingsbury Place and Hortense Place. Euclid Avenue became the center of the CWE, and soon this location was recognized as the premier Forest Park neighborhood
The Central West End became a historic district in 1974.
• Part of St. Louis City which was settled in 1764
• Population approximately 14,000
• St. Louis Public Schools www.slps.org
Noted for:
• Historic homes
• Notable neighborhoods include Portland Place, Westmorland Place, Washington Terrace and Kingsbury Place
• Renowned Forest Park with St. Louis Art Museum, St Louis Zoo, Missouri History Museum, Muny Opera, and many other features
• Cathedral Basilica of St. Louis
• Art galleries and popular restaurants
• Home to several private schools
• Located near "Grand Center" home of Saint Louis Symphony Orchestra at Powell Hall, The Fabulous Fox Theatre, the Sheldon Concert Hall and Art Galleries, the Pulitzer Foundation for the Arts, the Kranzberg Arts Center, and the Contemporary Art Museum St. Louis